Interdisciplinary NanoBioSciences Lab
Postdoctoral Research Associate
Biomedical Engineering
Email: smohamm1@olemiss.edu
Dr. Mohammad received his B.Sc. degree in Chemistry from University of Calcutta, and M.Tech degree in Polymer Science & Technology from University of Calcutta. After that, he completed his Ph.D. degree from Indian Institute of Technology Bhilai under the supervision of Dr. Sanjib Banerjee. Currently he is working on stimuli-responsive polymers for a variety of drug delivery applications. In his free time, Arif likes to read novels and play badminton.
Dr. Saif Mohammad Ishraq Bari
Postdoctoral Research Associate
Office: Brevard Hall D304
Email: sishraq@olemiss.edu
Dr. Saif Mohammad Ishraq Bari is a Postdoctoral Research Associate in the Department of Biomedical Engineering. He is currently working on the design and fabrication of a novel biodegradable micro-drug delivery platform for patients suffering from treatment resistant depression (TRD). Dr. Ishraq Bari completed his Ph.D.(Micro and Nanoscale Systems Engineering) from Louisiana Tech University, USA in 2021. His prior education includes M.Sc. (Molecular Science and Nanotechnology, 2018) from Louisiana Tech University, USA; and B.Sc. (Mechanical Engineering, 2013) from Islamic University of Technology (IUT), Bangladesh. Ishraq Bari's research interests and expertise include the design and fabrication of lab-on-a-chip biosensors for various biomedical applications, discover novel drug delivery platforms to treat depression, cancer, neurological disorder, and neurodegenerative diseases, and implement microfluidics in cell co-culture applications. For the extra-curricular part, Dr. Ishraq Bari is a sprots-enthusiast. If you are a soccer fan; especially Real Madrid-fan, do not hesitate to say hello!
To know more about Dr. Ishraq Bari's professional and research experiences, please visit:
Lab Website: https://inbslab.olemiss.edu/lab-members/
Google Scholar: https://scholar.google.com/citations?user=6X7brYMAAAAJ&hl=en
Linkedin: https://www.linkedin.com/in/saif-mohammad-ishraq-bari-p-hd-b2b22b114/
---
Graduate Students
Mehjabeen Hossain
3rd Year Ph.D. Student
BioMolecular Sciences – Pharmacology
Email: mhossai2@go.olemiss.edu
Mehjabeen completed her BSc in "Genetic Engineering & Biotechnology" from University of Chittagong, Bangladesh. After that she flew to Netherlands to complete her masters in "Infection & Immunity" from Erasmus Medical Center. There she worked in checking different combination of immunotherapy targets for colorectal cancer. Currently, she is working in deciphering platelet mediated cancer metastasis. In her leisure time, she can be found watching Netflix or reading self-help books.
---
Oluwaseyi Shofolawe-Bakare
3rd Year Ph.D. Student
Chemical Engineering
Email: otshofol@go.olemiss.edu
Oluwaseyi completed his M.S. in Material Science and Engineering from Tuskegee University in the Summer of 2019. He worked under his research advisor Dr Shaik Zainuddin to investigate the macro and nanoscale mechanical properties of carbon fiber reinforced polymer composites. Prior to obtaining his master's degree, Oluwaseyi obtained his B.S. in Chemical Engineering from Tuskegee University. Oluwaseyi is working to design polymeric materials that improve drug delivery to tumor-associated macrophages and combat tumor immunosuppression in breast cancers. Aside from his academic interests, Oluwaseyi enjoys watching and playing soccer and basketball.
---
Undergraduate Researchers
Jared Barnes – Senior, Biology
James 'Parker' Douglas – Junior, Biomedical Engineering
Lab Alumni
Postdoctoral Research Associates
Judith De Mel (2021) – Intel Corporation
Undergraduate Students
John 'Cal' Hendershot (2019) – Chemical Engineering Graduate Student, LSU
Shaunessey Burks (2020) – Public Health Graduate Student, University of Illinois, Chicago
Brianna Chambers (2021) – Medical School, VCOM
Ansley Myers (2021) – Medical School, University of Mississippi Medical Center
Blake Price (2021) – MBA Program, University of Mississippi
Larry Stokes (2021) – Biomedical Engineering Graduate Program, Vanderbilt University, NSF GRFP Fellow
Khadeeja Milloy (2021) – Undergraduate at Alcorn State University
iNBS Lab 2020-2021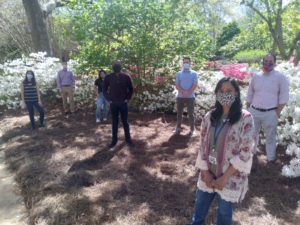 iNBS Lab 2019-2020